NEARSHORE FISHING ON HILTON HEAD ISLAND
THE NEARSHORE FISHING EXPERTS ON HILTON HEAD ISLAND
EXPERIENCE HILTON HEAD FROM THE WATER WITH A NEAR SHORE FISHING TRIP
Nearshore fishing on Hilton Head targets the reefs and wrecks just off the Lowcountry beaches. Fishing these reefs is an adventure because you never know what's down there until you pull it to the surface. Because these structures hold baitfish year-round, many fish species hang out all the time. Plenty of big fish are down there in 15-80 feet of water and they are ready to test your strength. Several of the nearshore reefs and wrecks like Fish America Reef are in water less than 20 feet deep. This means inshore fish are often found there as well.
Call or Text Captain Brad: 843-384-8236
Call or Text Captain Bill (Cell): 561-573-4873
WHY FISH WITH REEL JOB CHARTERS?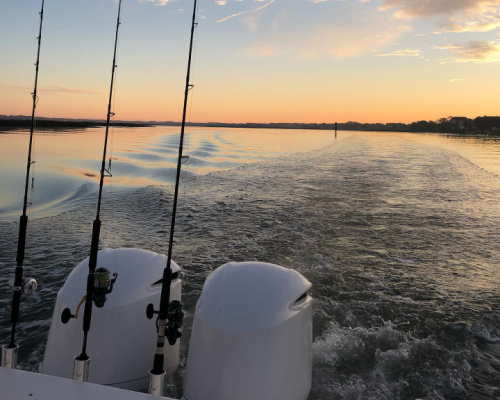 We Supply The Gear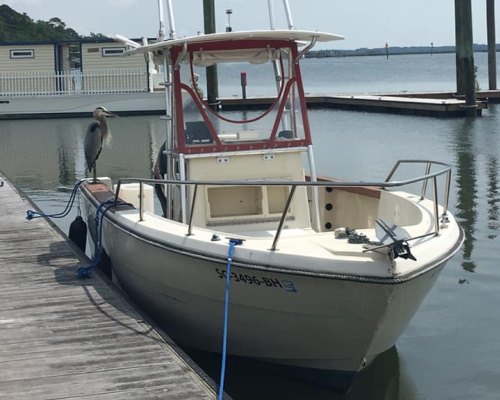 We Supply The Boat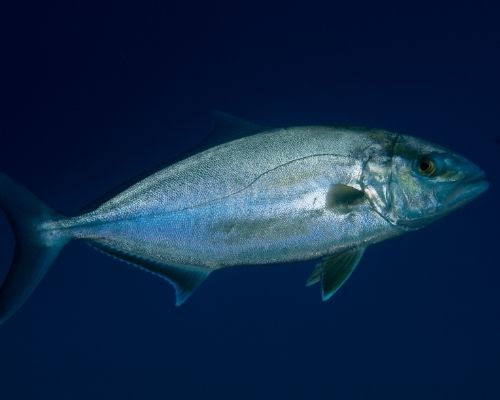 HHI Supplies The Fish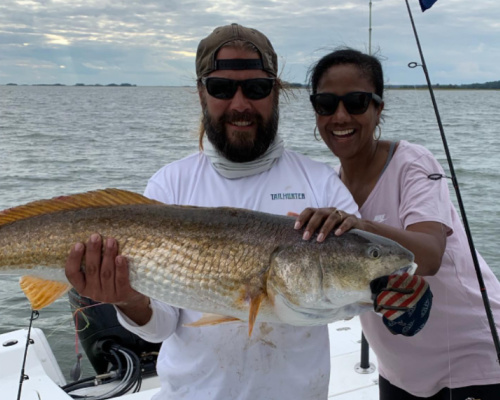 We Have An Adventure
COME FISHING ALONG THE BEAUTIFUL COAST OF HILTON HEAD ISLAND
When you want to spend some time out on the water and catch a ton of fish, then Hilton Head is the place for you! Near shore fishing in Hilton head is a great way to get away from it all. You will be able to enjoy beautiful views while reeling in your next trophy fish.
You don't have to venture very far offshore to get into "offshore quality" fishing. Just a few miles off of Hilton Head, there are many fishing "spots" such as artificial reefs and rock piles that hold fish. So with a short boat run, you can get into some great fishing. Fishing the wrecks around Hilton Head Island is a great way to experience exciting fishing action and still have time enough to enjoy your vacation on the Island.
Generally speaking, nearshore fishing refers to fishing within 15 miles (give or take) of the shoreline. According to the time of year, you can expect fish species like cobia, permit, kingfish, tarpon, tripletale, barracuda, various shark species, and big snook. Some of these fish are seasonal, but most of them are here year round.
We Take Care of All The Necessities for
Your Hilton Head Nearshore Fishing Trips
When you book a nearshore fishing trip with Reel Job Charters, all you need to bring is everyone who wants to fish, sunscreen, and something to take pictures and video. We've got the rest handled. We cover licenses, rods and reels, and bait.
If you want to try your hand at catching something on a fly rod, we recommend you bring your gear. Fly fishermen know their rod, how it casts, and how it handles, so using your own rod will make the trip more memorable. Our boat can take up to six people at one time for an eight-hour trip.
We offer a variety of trips for the nearshore fishing enthusiast, as well as some live bait options if you want more than just what's running along our shoreline. All gear is included with your trip: rod, reel, tackle box (with all necessary items), life jackets, and bait bucket. This means that no matter where we go or how long we fish, everyone will be ready to enjoy catching their limit or relaxing!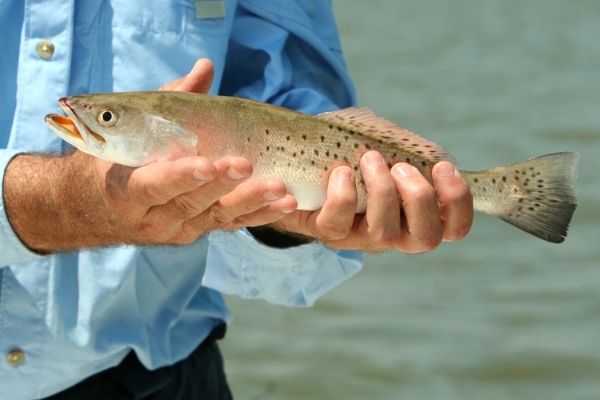 Nearshore Fishing Is a great Alternative to Long Deep-sea Fishing Trips
Reel Job Charter Fishing in Hilton head is a great way to experience what our East Coast shoreline holds with a variety of fish to be caught just a few miles off the beach. Nearshore fishing is in the ocean, just off the beach, but still in sight of land. Often, most everyone thinks that deep-sea fishing is where you catch big fish and have an exciting time; however, that's not always the case, especially when you can hook into many different species that run and school closer to the shore.
WHAT TYPE OF FISH CAN YOU CATCH ON A NEAR SHORE FISHING TRIP?
When you're ready to make some memories, Reel Job Charter Fishing charters on Hilton Head Island is ready to help you create them. Let's fish! What's available when?
Winter
Sheepshead are a common fish and excellent eating. They are known for the vertical white and black stripes and a mouth full of teeth that they use to grind their food. When we find a school of sheepshead, it's every angler on deck because they run in schools. When the bite is on, we can catch a lot in a short amount of time.
We will fish the General Gordon Wreck and Gaskins Bank Wreck. These are home to barnacles, small crabs, and other hard-shelled, bite-sized critters the sheepshead prefer.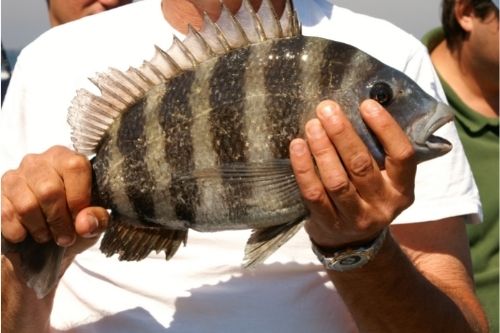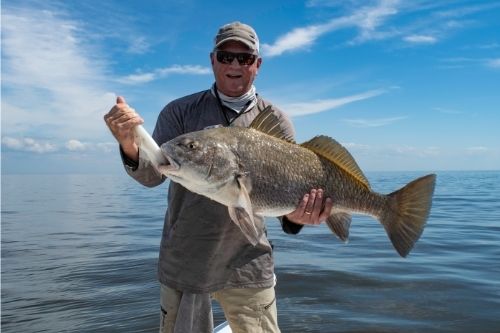 Spring-Summer
Black drum, whiting, black sea bass, bluefish, and sharks are the prime species on the nearshore wrecks. These fish all like live or cut bait. Fortunately, baitfish are thick over the nearshore reefs and wrecks. If you bring kids along, we will set up a sabiki rig and you can watch their delight as they pull as many as eight fish over the side at one time. Depending on the fish, you can take them home for supper or use them as chum and bait.
The amberjack bite heats up in May and runs through the summer into September. These hard-chargers like live bait and jigs worked up from the bottom. Big amberjack hang out on Betsy Ross Reef and Hunting Island Reef.
Summer
The reefs and wrecks around Hilton Head have fish year-round, but some fish only show up at certain times of the year. Cobia and Spanish and king mackerel come north in the summer. Both mackerel are excellent on the table and put up a serious fight on the line. Speckled trout are also common during the early part of the summer and late spring. Fripp Island Reef is prime-time for big cobia.
Tripletail, considered one of the top fish for the table, are usually found right at the surface. No one is exactly sure why, but they lay on their side, rolling with the light waves. We catch these with light tackle and live shrimp.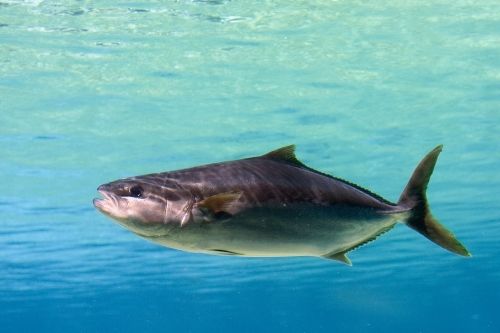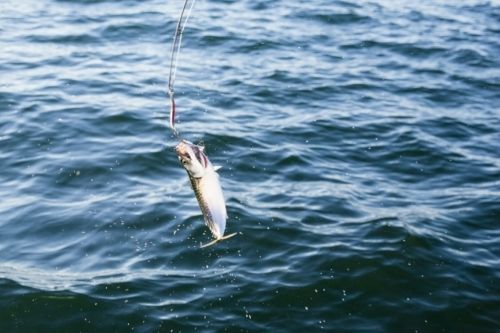 Summer-Early Fall
Cobia, jacks, whiting, mackerel, and sea bass are the primary targets in nearshore fishing. We will have plenty of sharks. The truth is, this time of year, we're not entirely sure what you will catch on the reefs and wrecks. The warmer waters attract fish from all over.
Topwater action is exciting this time of year. If you've never seen a chunky shark slam a topwater lure, you have an experience waiting! It's heart-pounding excitement when the water explodes and the drag starts singing.
Fall-Early Winter
Bull redfish are stocking up and putting on some weight for the coming winter. We regularly see reds weighing more than 20 pounds in the boat at this time of year. Most of the wrecks and reefs have bull reds.