FAMILY FISHING TRIPS ON HILTON HEAD ISLAND
Are You Ready For A Fishing Adventure That's Fun For The Entire Family?
Few people experience the excitement of fishing the way kids do. For them, every tug on the line is a thrill, every fish brought to the boat an accomplishment to be proud of. At Reel Job Charter Fishing, there are few things our captains find more rewarding than getting to take part in that excitement.
From in-shore and near-shore charters to shark fishing trips, the Hilton Head Island area offers great opportunities for kids of all ages to learn to fish and develop a deep connection with nature. To provide the most rewarding experience, we quickly put you on the fish, so your family gets to fish longer.
Family Adventures with an Experienced Captain and Crew
Family fishing trips offer an opportunity for children and parents alike to bond over their shared enjoyment of fishing. Our family fishing charters are built around your child's age and experience level, and Captains Brad Jureka and Bill Savidge are dedicated to making sure kids catch fish, and have fun!
We have over two decades of fishing experience in Hilton Head, SC, and we're always eager to share our knowledge and skills, especially with young anglers. We've seen the pure delight on kids' faces when they land their first big catch, and we love getting to be a part of that joy. Captains Brad & Bill have not only the know-how, but (just as importantly) also the patience to help kids learn how to fish, and a low-key fishing style that keeps them relaxed and engaged.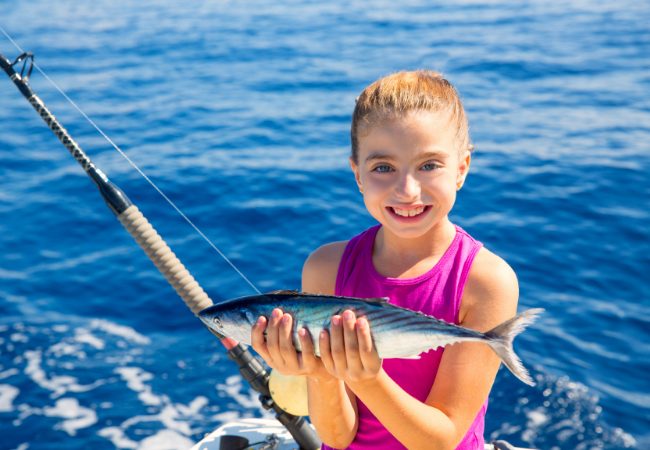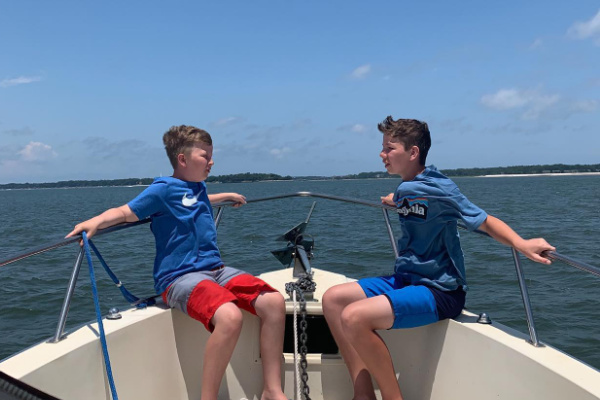 Fishing in Comfort and Safety
Nothing is more important than safety. We take that motto seriously on all our fishing charters, but never more so than when children are present. Your family will be fishing from a 25" Pursuit fishing boat, with a captain whose in-depth knowledge of the waters around Hilton Head ensures a safe voyage for all aboard. Life jackets, floatation devices and other safety gear are always onboard…though we're confident you won't need them.
And you can rest assured that our vessel—the Reel Job—is also built for comfort. She has a classic hull to keep you dry while the 250 HP outboard carries your family smoothly over the waters of Hilton Head. The Reel Job also has a customized T-top to keep you out of the sun, and a wide fishing deck so your whole family can fish without being crowded. We know how hard it is to have a good time when your kids are uncomfortable, and we won't let that happen!
All-Inclusive Family Fishing
The most common question we get asked about our family fishing trips is, "What's included?" The answer is simple: just about everything! In addition to the boat, fuel, and decades of experience, we're proud to provide quality, well-maintained fishing tackle and gear, including rods and reels and all the bait you'll ever need.
We also provide bottled water, ice for keeping your catch cold, and even your fishing license. All you really need to bring is lunch, sunscreen, and any other drinks that you might want (a good pair of polarized sunglasses is also a good idea). Don't forget a camera to capture the joy of that first catch!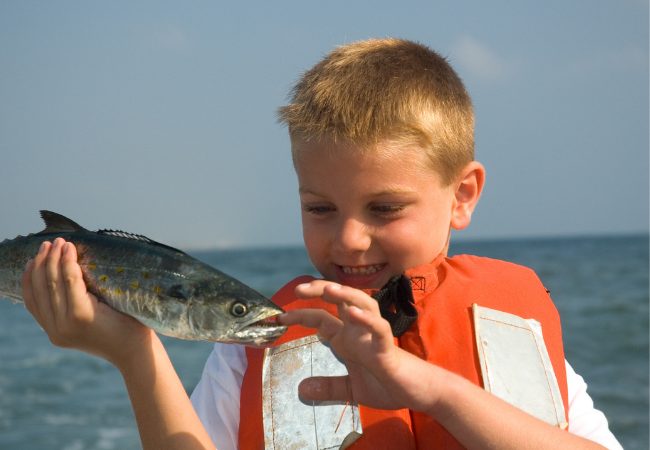 CHOOSE YOUR ADVENTURE
All ages 4 and up are welcome on our family fishing charters, and we're always happy to tailor your trip to suit the needs of you and your family. A lot of younger children are far happier catching lots of small fish all day long, as opposed to going after a few giants that the grown-ups will have to help them with. We're completely onboard with that! But if you have more advanced junior anglers who are ready to tackle something a little more challenging, we can accommodate that too.
We'll go anywhere from 5 miles to 30 miles in search of fish, depending on the time of year and what your family wants to catch. From redfish and tarpon to cobia and sharks, we'll take you and your kids to where the fish are.
Introducing the next generation to fishing is one of the reasons we do what we do. Contact us today to learn more about planning your family fishing trip with Reel Job Charter Fishing!
Book A Trip!
Please feel free to email us about booking a trip, fishing charter reservations, trip availability, and dolphin tour information, or you can call us any time at 843-384-8236