Wondering What Fish Is In Season On Hilton Head And What You Might Catch? Read Our Ultimate Guide To Fishing On Hilton Head
Hilton Head Island is an outdoor paradise. Many come to enjoy the gorgeous beaches. Many others for the world class golf courses. Yet with twelve miles of spectacular coastline on the Atlantic Ocean and Intracoastal Waterway, Hilton Head is also home to some of the most pristine fishing grounds in all the United States.
The scenic waterways of Hilton Head are popular fishing, shrimping, and crabbing destinations. Whether you spend a leisurely afternoon fishing right from the shore, casting off a dock, or spend time fishing in the ocean, the island offers a variety of excellent fishing activities. And better yet, fishing on Hilton Head is year round. You have the opportunity to catch fish 365 days a year.
When discussing fishing from or on Hilton Head Island, the defining characteristic is diversity. There is fishing for every level of experience and enthusiasm. Couple that with facilities to support almost every category of sport fishing and you have an angler's Shangri-la.The variety of fish that are caught around Hilton Head is truly amazing. The fresh water creeks, streams, and rivers yield forty species of fish. There are eighty saltwater species available to the angler fishing the marshes, coves, and ocean surrounding Hilton Head. Taking a Hilton Head fishing charter is a surefire way to tackle many of the abundant varieties in the area.
Though Hilton Head's near-perfect weather makes fishing a year round activity, it does not follow that all the fish are available year round. Seasonality comes into play, and it's important to take it into account if you're looking for a certain type of fish.
Fishing opportunities are essentially broken down by season. Freshwater bass and sunfish are available throughout the year but they do prefer warmer weather. Fishing inshore or offshore in the saltwater is a different story and seasonality really determines what's available.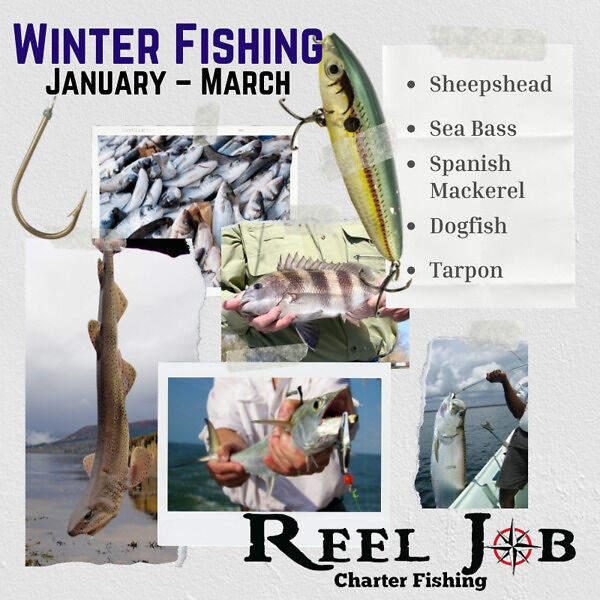 January – March (Winter Fishing)
Winter is a great time for inshore fishing and offers numerous opportunities for shallow water sight fishing. Winter is when large schools of redfish form and the water turns gin clear. Fishing in the winter months, redfish can be very selective and quirky. It's a good time to focus on afternoon low tides as the shallow water warms with the high sun. Paying close attention to the tide in winter is key. With redfish gathering in schools of 10-100 fish it can offer a great experience in watching the fish take the bait prior to commencing the "battle." Accurate casting is paramount during this time of year. These winter fish range from 2 to 15 pounds with the average being seven to eight pounds.
Sheepshead are another fish available most of the year, but the real action takes place during the colder months when they move out to deeper water. They are especially prevalent around the nearshore wrecks. These fish get their name from the "sheep like" teeth that they use to crush barnacles and crabs. When the bite turns on you can literally catch them as fast as you can get a bait down.
Wrecks, if you are not familiar with the term, are sites mostly created by the South Carolina Department of Natural Resources, though some were caused as ships sank off the coast. These man made sites hold a number of different pieces of structure that may range from subway cars to battle tanks to cargo ships. If it attracts fish, the agency has it at the bottom.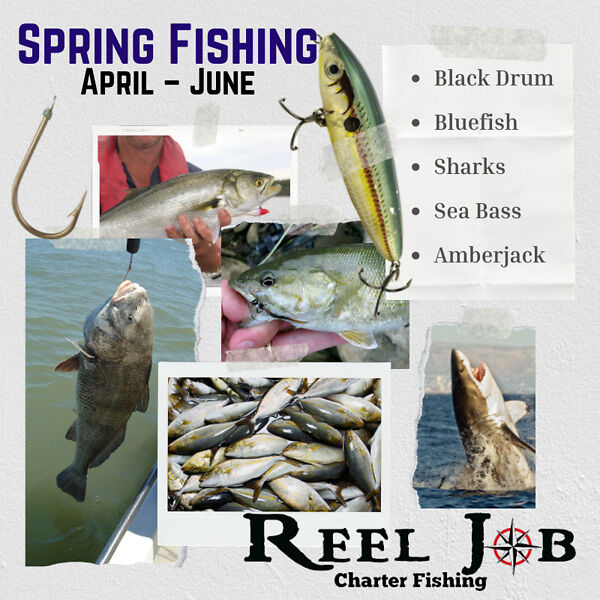 April – June (Spring Fishing)
As the days become warmer and the water temperature starts to rise, so does the fishing. When the inshore redfish break out of their schooling patterns they will start to spread out as the estuary becomes filled with small bait fish, shrimp, and crabs.
The spring is the best time to catch blue crabs for bait. Blue crabs begin the shedding and molting process making redfish hyper-focused on eating soft shell crabs and nothing else. Flounder will start moving in the estuaries following the warmer water. Speckled sea trout will move from deeper water to shallower water.
Cobia begin to arrive in the spring and in large schools in the Port Royal Sound and Broad River. They average between 25 and 40 pounds and it is not unusual to catch a Cobia over 50 pounds. Fishing with bait is the most common method for catching cobia, but artificials and flies may be used when sight fishing on calm days. Cobia like to hang out in deep sounds and around inshore reefs. They're the opposite of shy and may come to investigate when you arrive. They are a big, tasty fish and will make you work to bring them in.
Also in the sound and nearshore waters will be fish such as Spanish mackerel, black sea bass, black drum, whiting, blue fish, triple tails, and sharks.More than twelve different species of sharks migrate into the Hilton Head area beginning in mid-April and increasing throughout the summer. Sharks can be found around the shallow flats as well as the deeper channels heading to Port Royal Sound.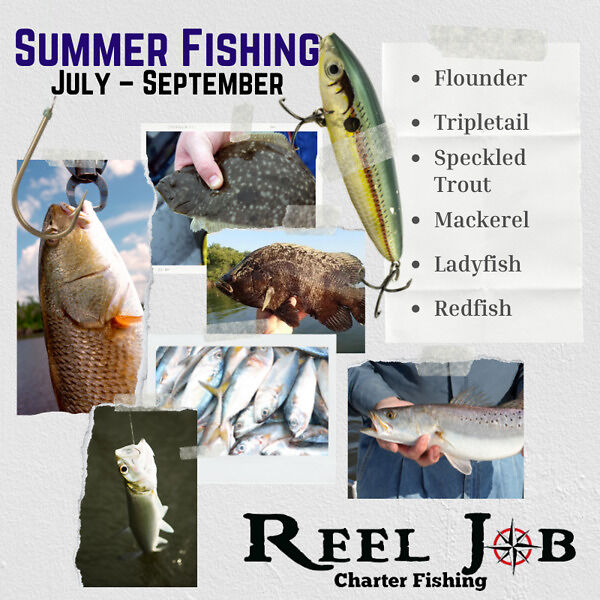 July – September (Summer Fishing)
Warm waters bring seasonal and tropical species. Redfish, trout, tarpon, sheepshead, black drum, flounder, mackerel, and various sharks can be targeted using a combination of lures and live bait.
Tarpon, arriving in the summer months in the Port Royal Sound as well as the backcountry creeks, bring excitement to the fishing community.
Tarpon is one of the most electrifying inshore gamefish to catch because of their explosive, long runs and incredible leaping ability. Tarpon average 7 to 115 pounds and may reach 150 pounds or more.
Mixed in with the tarpon will be a number of sharks such as blacktips, duskies, and bonnet heads. You can also catch bigger sharks, like bull and lemon sharks, close to shore. Head into deeper waters and you will see the real monsters: hammerheads, tigers, and makos.
The summer months also bring great action on the nearshore reefs for species such as cobia, jacks, mackerel, whiting, and sea bass.In summertime in Hilton Head the water can be downright hot, so time of day and tides will dictate the best fishing. Early morning and late evening tide cycles can be very productive. Evening flood tides provide some of the most unique fishing experiences. Studying tide charts and moon phases in advance is a must. Hilton Head experiences abnormally high tides during the full and new moon phases which flood the grass flats. Redfish love to get up on these shallow flats and "tail" looking for fiddler crabs. Fishing the flooded grass is more like hunting than fishing. A stealthy approach and a well placed fly or lure is the key to success on the flats.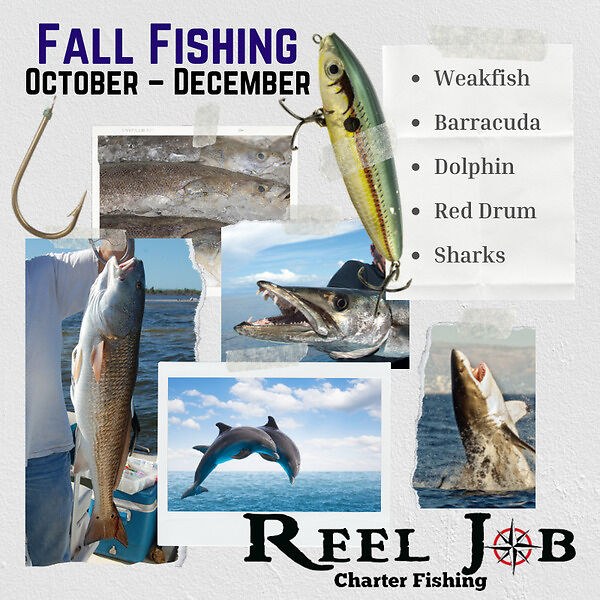 October – December (Fall Fishing)
There are strong arguments for fall to be the best time to fish on Hilton Head. The abundance of bait fish coupled with cooler water temperatures have the fish beginning to gorge themselves. Large redfish, speckled sea trout, and flounder begin to gather in schools as they prepare for the winter months. A good tactic is to fish around the oyster bars, creeks, and mud flats to catch these fish as they feast on small bait fish and shrimp. This is also a good time to catch some shrimp….spend a little time on that and you will be rewarded for your efforts.
Out in the sound, the bull redfish begin to school right off the beaches of Hilton Head. Bull reds are the same as the inshore redfish, only bigger. Yes, a lot bigger. Many of these fish are in the 25 to 40 pound camp and they fight like Muhammed Ali.
There is also some great fishing on the nearshore wrecks for bull reds, weakfish, sea bass, and blues. This guide only touches on what you can expect when fishing on or from Hilton Head Island. Here at Reel Job we are your charter fishing guides for all seasons. Want to catch a special species? Want to know tidal conditions? Want to find the special spots? Call us at (843) 384-8236. At Reel Job Charter Fishing we will customize a fishing trip that will meet and far exceed your expectations.